I left my heart there
After my somewhat lukewarm post about San Francisco, it's interesting to reflect on how much I enjoyed my week there in retrospect. It's an incredibly special place, and it's weird how quickly I acclimatised to (and ignored) the nudes on the Castro. My favourite building on Castro Street is
The Castro Theatre
, built in 1922, with over 1,400 seats and a balcony, it now shows the sorts of films that you can't see anywhere else (as well as Magic Mike). I watched a great Humphrey Bogart double bill (The Treasure of Sierra Madre and Key Largo) and then the Hitchcock film Strangers on a Train. Both times, there was a good turnout and it's nice to know there are still fans of great old black and white movies. Later this month they are showing Showgirls, Night of the Iguana and Whatever Happened to Baby Jane. I'm genuinely regretful I'll miss them all (especially as I would have cajoled my fella to dress up as Baby Jane). If I lived in San Francisco I would probably end up living in that cinema.
A couple of days before we left, we took a walk from Nob Hill to Haight Ashbury - a district that is noted for being the centre of the hippie movement in the 1960s. I'd noticed that various cultural stereotypes (the pimp, the leather clone) still seem to exist in real life on the streets of San Francisco, and Haight Ashbury did not disappoint with hippies. As we approached the ground zero (the intersection of Haight and Ashbury) the density of shops selling bongs and vintage clothing got higher - psychedelic music and incense wafted out of doorways and there were brightly coloured vans, like the Mystery Machine in Scooby Doo. There were little homemade tributes to Amy Winehouse and Janis Joplin that had been put in cellophane and then wrapped around the plants on the sidewalk.
It all felt very exotic, until we arrived at the intersection itself, to find a great big Ben and Jerrys parked there.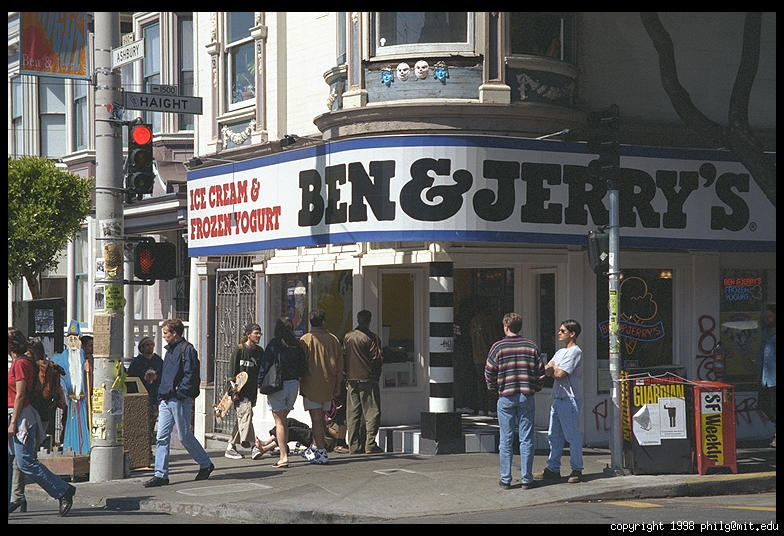 I guess it's better than a McDonalds, and I know Ben and Jerrys have an icecream called "apple-y ever after" which celebrates gay marriage (which is still subversive to some people) but it felt so wrong.
During my visit I started reading
Changing Places
(1975) by David Lodge, which is about a British lecturer of English who swaps places with an American one living in San Francisco, a scheme which proves to be oddly invigorating for both men. I am the same age as both characters and in the same job, and I rather uncomfortably, recognised some of the traits of Philip Swallow, the more reserved British character, in myself. If any English Language academics living in San Francisco would like to swap their lives with me, do let me know.