Generation Bod
I sometimes feel sorry for the children in my extended family who will never experience the freedom that I had. When I was a child, I used to vanish for hours on my bicycle, a Commando which looked exactly like this.
I used to save the coloured plastic tags that kept bags of (white) bread fastened up, and put them on the wires that led down to the break pads. There was a small tear in the seat of the bike, and as I got older and bigger, the tear responded by growing in equal measures, until eventually one day half of the seat fell off, and no amount of superglue would ever put it right again. After then I graduated to a Chopper.
I would cycle through several streets (Cotswold, Furness, Quantock, Hambledon, Polden, Snowden, Pentland), alone or with friends, to the local "Minimart", to buy ten pence mix ups and abridged children's versions of classic books like Little Women and Robinson Crusoe (50p each), sometimes going the long way through a wooded area which had a particularly perilous ridge to ride your bike off, whilst pretending to be Eval Kineval. On one occasion, I timed the jump wrong and ended up flying over the handlebars, and landing on the ground, face first. My parents knew nothing of this, nor did they know about the time me and other boys in Class T2A sneaked out of school one wintery lunch time and went skating on "Jack's Pond", stopping only when we heard and saw the ice start cracking onimously beneath our feet. They did not know that I used to run across the A19, a dual carriage way on the edge of town, which bordered Castle Eden Dene, a densely isolated woodland where I used to play. I guess it was the 70s/80s and all children had more freedom in those days. We did not know what a "child-seat" for a car was, and I never wore a rear seat-belt. Once, I sat in the back of my Dad's flat top truck as he drove home (immense fun and horribly dangerous), while I also got to ride on the back of his motorbike on a number of occasions (until my mother said she would smash it up with a hammer unless he got rid of it).
Except for the fall off the bicycle, I didn't come to any harm, but in spite of this, if I had a child, he or she would never be allowed to do most of the things I did, and would spend almost all of his/her time watching tv (supervised). There wasn't much kids tv in the 1970s, so this is probably why my parents (along with everyone else) were simply relieved when children announced they were going to "play out", and then vanished for hours at a time, only to return when they were hungry.
Children's tv consisted of about an hour at lunch time, then a couple of hours after school. Repeats were much in force, and due to the general sparsity of all kids tv, I would often end up watching stuff that was completely age inappropriate. I would think nothing of watching pre-school stuff like Bagpuss when I was 14 and staying off school with some feigned illness or other.
I loved Bod, mainly due to the splendid voice of John Le Mesurier. Bod (for those of you who haven't had the pleasure), was a surreal pre-school animation show, about a non-gendered skin-head midget in a yellow dress and his friends.
It has great music (especially the theme tune and the sexy slinky saxophone that introduces Aunt Flo), and there's something very zen about the storylines, but it's that rich mellow voice that I love the most.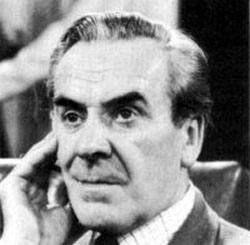 John Le Mesurier appeared in last week's BBC4 dramatisation Hattie - another of those film-length "based on true events" shows, which takes a much-loved comedy character from the 1960s or 1970s, and then shows how miserable and twisted they were in real life, to a backdrop of lurid wallpaper, people wearing baby doll nighties while smoking indoors next to Tretchikoff pictures.
Hattie (Jacques), who played the "frigid silly fat one" in the endless Carry-On series, was married to John Le Mesurier, although it turned out, she had an affair with her hunky much younger driver, and moved him in to the guest room. When Le Mesurier caught them in bed, he apologised
to them
and then resignedly moved himself into the guest room, swapping places with the chaueffeur. Along with that voice, it's his faultless good manners, unflappable nature and desire to "rub along" which makes him one of my role models.