Yet another celebrity blog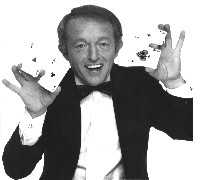 One wonderful thing about the internet is how it brings you closer to everyone - including the rich and famous. Celebrities have gaydar profiles and keep blogs. As Jodie Marsh has not updated her blog since the beginning of July (rumours abound about breast surgery - surely not - wasn't she the one who made fun of Jordan's "plastic balloons"?), I have had to cast my net for celebrity blogging wider than usual. Obviously, no-one can ever beat Jodie. But thanks to
jetpack technology
there may be a contender. Paul Daniels' blog is eerily fascinating. I'm only going to quote one small piece from it, taken from a description of a hotel in Stockholm that he stayed at:
The first room we were given had no electricity and fortunately we noticed that before we unpacked. We moved to another room. Swedish design is VERY clean, but boring. There were mistakes like having the soap on a wall far away from the sink. The soap dispenser looked lovely, but the leverage wasn't strong enough to eject the soap from the too-strong bottles inside so I took them to pieces so we could get washed. The plug in the very shallow sink, which spilled over when you used it, was truly wierd and you sort of had to push it down and then, if you pushed it again, it jumped up into the air. If the tiles on the floor got wet, well, this IS the bathroom, they were dangerously slippy, and so on.
The level of lovingly mundane detail there is perfect. But there's more. Paul has an ebay account, and there's even a
blog
which describes in stalker-like detail every transaction he's ever made. Paul has a bit of a penchant from crap British horror films from the 1970s and 1980s (something we have in common), but also dabbles in diverse goods such as gramophone needles and old bits of pipe. The blogger describes all of the feedback transactions, as well as adding his/her own commentary: "...this is a huge result for little Paul Daniels and I'm sure he was absolutely delighted to make over a thousand pounds on ebay." and "I think Paul is going to enjoy owning 'his' book. Not a lot!" How lovely.